The weather has been quite unpredictable lately, it has been more rain these days than the first week. Last night there was a big thunder shower, it even hailed at some point. The storm came and went, came and went.
Last weekend we had friends from Vienna came to visit us, they were a family of 5, two of the girls whom I adore very much. We went for a hike from our place all the way up to the Pyramid Tower of Woerther See. The supposedly 90 minute hike turned out to be more than two hours to get up there after we realized we made the wrong turn, we made a big detour. Nonetheless the efforts, we did came across beautiful scenaries along the way. This was was so serene and beautiful, it's called Trattnig.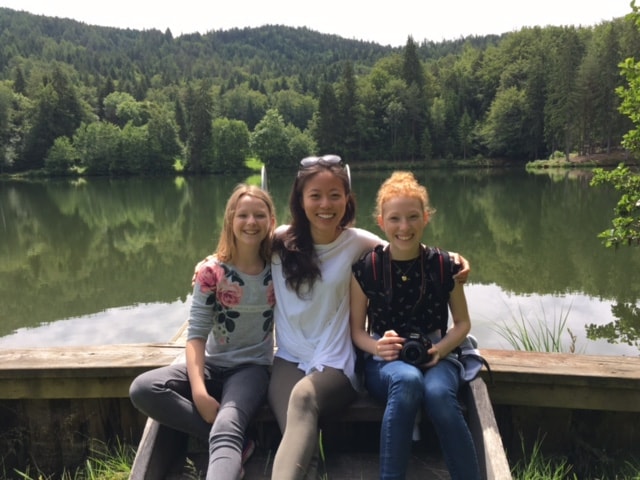 The water color changes day to day, sometimes it's turquoise, some times blue, some parts you see are green. It has such a mediterranean touch to it.
After having lunch at the top. We went up to the observatory station in the Tower, the view was just… breathtaking!
The hike down was quicker but still some distance. It was a proper work out. The weather was also very generous to us, it managed to stay sunny and warm throughout! After the hike, we had to go a dip into the lake. We just had to! Of course, I had to warm up my jump a bit before going in.
It's not that impressive, I know. Teehee!
Now that I've actually stay in Austria for more than week, not as tourist or similar sort, I really feel Austria is a underrated country. The local cuisine and Austrian food in general have so much to offer, the nature is very similar to Switzerland and the price is fairy reasonable. Lake Woerth has definitely made to the top list of what I love about Austria.
Over my off days, we went to the Hotel Balance on the other side of the lake and enjoyed their wellness spa. This hotel was slightly over the hill, it does have a very good view of the lake. After that, we had a nice local Austrian food at the restaurant in the hotel.
I had their local desserts which is a crepes with Nutella, oh dear lord. That was a bit rich!
My busiest day this week is Saturday and Sunday. I normally start my weekends at 615AM. To get going with the day, I usually prepare Blood Building Bowl inspired by My New Roots. It gives a great start of the day so I can teach a great morning session.
Here's the recipe:
1 red beets, diced.
3-4 dried plums, soaked in a cup of water overnight (or replace this with 1 ripe banana)
small wedge of lemon
handful of resberries
1 tsp of vanilla
any additional superfood – kale powder, sesame powder etc.
Place them in a food processor, mix until smooth.
Top with different kind of berries, chia seeds, bee pollen, goji berries and some buckwheat granola. Enjoy the alkaline kind of breakfast and say byebye to white flour!
This was taken at 7 in the morning close to the FX Mayr Health Center. For some reason, everywhere you look here, there's magnified beauty of nature and divinity.
I'll be posting more yoga videos for beginners soon! Stay tuned!
Bright light,
Paye Tina
https://payetina.yoga/wp-content/uploads/2019/09/yoga-around-lakewoerth-img1.jpg
630
840
paye_admin
https://payetina.yoga/wp-content/uploads/2019/09/logov2.0.jpg
paye_admin
2016-06-17 07:18:51
2019-09-21 06:06:55
YOGA AROUND LAKE WOERTH